Arnd Hartmanns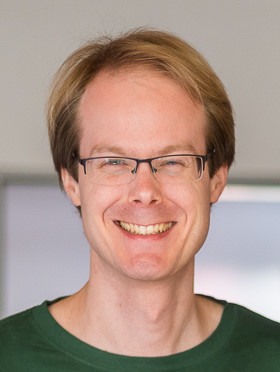 I am an assistant professor in the Formal Methods and Tools group at the University of Twente. My primary research interests are modelling tools and formalisms for stochastic timed and hybrid systems (in particular Modest) and their applications in various fields. I advocate reproducibility in Computer Science research, via artifact evaluation initiatives, tool competitions, and standardised benchmark sets. I was previously a postdoc in the Formal Methods and Tools group at the University of Twente and the Dependable Systems and Software group at Saarland University, where I also completed my Ph.D. in computer science with a thesis On the Analysis of Stochastic Timed Systems in 2015.
Contact
University of Twente
Room:
Zilverling 3061
E-Mail:
Projects
Committees
I was previously a member of the program committees for FormaliSE, QEST, and SPIN 2023; for FORMATS and FORTE 2022; for SNR, FORMATS, and SPIN 2021; for SBMF, FORMATS, and QEST 2020; for SETTA and QEST 2019; for FORTE 2018; and for ACSD 2017.
Publications
[DBLP] [Google Scholar]
2023
Fast Verified SCCs for Probabilistic Model Checking
with Bram Kohlen and Peter Lammich: ATVA 2023, Singapore (October 2023) [DOI]
A Practitioner's Guide to MDP Model Checking
with Sebastian Junges, Tim Quatmann, and Maximilian Weininger: TACAS 2023, Paris, France (April 2023) [DOI]
2022
2021
2020
2019
2018
2017
2016
2015
2014
Reachability and Reward Checking for Stochastic Timed Automata
with Ernst Moritz Hahn and Holger Hermanns: AVoCS 2014, Enschede, The Netherlands (September 2014) [PDF]

The Modest Toolset: An Integrated Environment for Quantitative Modelling and Verification
with Holger Hermanns: TACAS 2014, Grenoble, France (April 2014) [DOI]

2013
A Compositional Modelling and Analysis Framework for Stochastic Hybrid Systems
with Ernst Moritz Hahn, Holger Hermanns, and Joost-Pieter Katoen: Formal Methods in System Design (October 2013) [DOI] [PDF]

On-the-fly Confluence Detection for Statistical Model Checking
with Mark Timmer: NASA Formal Methods 2013, Moffett Field, CA, USA (May 2013) [DOI]

An Internet Inspired Approach to Power Grid Stability
with Holger Hermanns: it – Information Technology (April 2013) [DOI]

2012
2011
Partial Order Methods for Statistical Model Checking and Simulation
with Jonathan Bogdoll, Luis María Ferrer Fioriti, and Holger Hermanns: FMOODS/FORTE 2011, Reykjavík, Iceland (June 2011) [DOI]

2010
Model-Checking and Simulation for Stochastic Timed Systems
FMCO 2010, Graz, Austria (December 2010) [DOI]

2009
Teaching
University of Twente
Saarland University
Theses
On the Analysis of Stochastic Timed Systems, Ph.D. Thesis, Universität des Saarlandes, February 2015 [PDF]
(received the 2016 Best Dissertation Award by the GI/ITG Technical Committee for "Measurement, Modelling and Evaluation of Computing Systems")
A Modest Checker for Probabilistic Timed Automata, Master's Thesis, Universität des Saarlandes, March 2009
Value Passing in Modest, Bachelor's Thesis, Universität des Saarlandes, May 2007 [PDF]
Reviewing
Conferences: FORMATS, ICSE, and SPIN 2021; FORMATS, NFM, QEST, TACAS, and TTCS 2020; COCOON, QEST, SETTA, and TACAS 2019; FMCAD, FORTE, ISoLA, and TACAS 2018; ACSD, TACAS, and WSC 2017; ACSD, ICFEM, and MFCS 2016; ATVA and TACAS 2015; HSCC and QEST 2014; ESOP, HSCC, and VMCAI 2013; AVoCS, FMICS, HSCC, and TACAS 2012; ATVA, CAV, FORMATS, FMICS, and HSCC 2011; CAV, DSN, FORMATS, FMCO, and MMB/DFT 2010; AVoCS and CONCUR 2009.
Journals: ACM Transactions on Modeling and Computer Simulation (2018), IEEE Transactions on Computer-Aided Design of Integrated Circuits and Systems (2013), Information and Computation (2017, 2018), IT Professional (2021), Journal of Logical and Algebraic Methods in Programming (2017, 2018), Logical Methods in Computer Science (2020), Software Tools for Technology Transfer (2014, 2015, 2017), and Theoretical Computer Science (2013, 2016, 2017, 2020).
Other
Founding director of The Weissbord Institute.